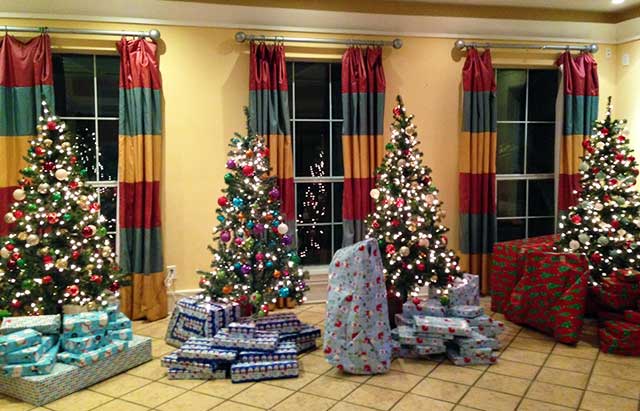 Giving is at the heart of God. The example of His giving is epitomized in the Christmas story. God gave His Son, Jesus Christ, as a free gift to the world. As Believers, we are to imitate the heart of freewill giving. We, at Church Without Walls, New Orleans, started an outlet called Connect-A-Family Christmas to provide an opportunity for ourselves and others to share in God's giving heart.
The Connect-A-Family Christmas is aimed at providing Christmas gifts for working single-parent homes and working two-parent homes that are faced with the choice of keeping the lights on over providing gifts to their kids. Last year we provided gifts for four families that fit the criteria. We host a Christmas party where we present the gifts along with Christmas trees to each family (pictured right). This year we will be providing gifts for four families. The families have been contacted and are very thankful and excited.
We need your help and support. Church Without Walls, New Orleans is taking tax-deductible donations to help provide the gifts for each family. Will you share in God's heart by giving? You can give online by clicking DONATE in the menu at the top of the page, or call Pastor Troy Gause at (504)232-7607 if you have Cash or Checks.
Thanks in advance for your generosity.